---
Mae Babitz was an adventurer, historian, activist, preservationist, artist, wife, and mother. Born in Crowley, Louisiana in 1911 to Cajun-French ancestry and baptized Lily May Josephine Laviolette, her childhood was spent in the oilfield boomtowns of Sour Lake, Texas. Mae moved to Los Angeles in 1934 and took a job working as a secretary for a chemical firm. She met and married violinist Sol Babitz and had two daughters, writer, Eve Babitz and clothing designer/rock concert promoter turned therapist, Mirandi Babitz.

A self-trained artist, Mae achieved an exceptionally sensitive and expressive draughtsmanship and her works display the passion and energy of one who comes to art through the heart. Enchanted with Los Angeles architecture, Mae began drawing buildings that were often doomed for destruction. She had a unique style and created a collection of over forty drawings. Throughout the 1950s and 60s, when urban planning in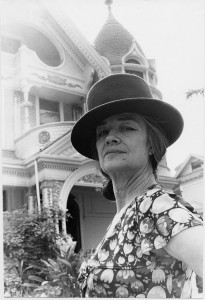 Los Angeles focused its municipal eye on tearing down older structures to make way for newer, modern buildings, Mae traveled the back streets and ramshackle alleys of Los Angeles, recording the vitality of the city's earliest buildings, including the architecturally magnificent Victorian homes that once graced Bunker Hill. Often working only one step ahead of the demolition crew, Mae once sat on a Bunker Hill curbside working with her drawing board while a Queen Anne house went down under the wrecking ball. Her collection also includes drawings of the Bradbury Building, the Watts Towers, The Hollywood Hotel and other significant landmark buildings.
In 1949 her drawing of "Los Angeles, Northeast Corner of 4th and Main" received a purchase award from the Los Angeles County Museum of Art. Her drawings were exhibited in La Cienega galleries, in numerous exhibitions, and are in the private collections of Igor and Vera Stravinsky (Godfather and Godmother to the Babitz children), Hope and Jeff Corey, Edward James, Laurie and Art Pepper, and Eugene Berman. She completed a second collection of drawings of Italy, France and Germany, between 1961 and1978. In 1981, Mae was the featured artist at the City of Los Angeles' Bicentennial Art Exhibition, "L.A. by L.A."
Personally committed to the preservation of Los Angeles architecture, Mae and Sol helped found the Committee for Simon Rodia's Towers in Watts in 1959. The Committee lobbied both the City of Los Angeles and private donors and held various fundraisers to successfully save the Watts Towers from destruction. Prints of Mae's quill and ink drawing of the Watts Towers were sold to help fund the Committee's work.  Babitz wrote a biography of Simon Rodia, the research of which included many interviews with Rodia and travelling to his birthplace in Italy. The Committee produced a documentary film that was narrated by blacklisted actor and Babitz neighbor, Jeff Corey. Mae and Sol hosted regular meetings of like-minded artists, poets and musicians, including Igor and Vera Stravinsky, Bernard Herrmann, Ingolf Dahl, Kenneth Rexroth, Kenneth Pagent, Jellyroll Morton. Mae and Sol helped found the Ojai Music Festival.
In the 1970s and 80s, Mae worked with Kate Steinitz and Dr. Elmer Belt in the Elmer Belt Library of Vinciana at UCLA. She also worked at the Los Angeles Art Association Gallery on La Cienega and was a participating member in the association for over twenty years.
Mae Babitz passed away in 2003. In 2006, her daughter Mirandi donated the entire Babitz collection and private papers to the Charles E. Young Research Library, UCLA Library Special Collections. Additional papers at: Online Archive of California
You can read more about the artist at the Los Angeles Times.