---
Sol Babitz was born in 1911 in Brooklyn, New York. He began studying violin at the age of eight and at sixteen, won the Carnegie Hall Gold Medal. Shortly after that, his entire family moved to Hollywood, where his aunt, Vera Gordon, was making a name for herself in silent films, including the classic, Humoresque. With his gold medal and two testimonials from noted New York musicians, Sol was hired as a violinist for Grauman's Chinese Theatre, playing for many silent films, and then became Assistant Concert Master for the Glendale Symphony.
At the age of twenty-one, Sol moved to Berlin to study with the renowned Carl Flesch. During his time in Berlin, Sol began to disagree with how Bach was played by contemporary musicians and the seeds of his Early Music Laboratory, which he founded in 1948, were planted.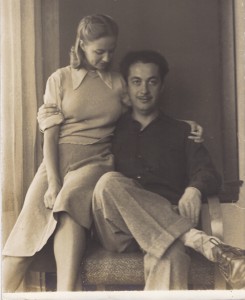 His father, Abraham Babitz, was editor of the Los Angeles Jewish Voice and, while in Germany, Sol wrote articles for his father about the state of Jews in Germany, how Jazz music was no longer allowed to be played, how Jews were losing their positions in universities, and the state of Germany under Nazi rule. After witnessing the burning of the Reichstag, Sol recognized the terrible truth of what was to come and returned to the United States.
Back in Los Angeles, he auditioned for conductor Otto Klemperer and was hired as first violin for the Los Angeles Philharmonic as well as for a position with the Hollywood Bowl Orchestra. During this time, he became close friends with Igor Stravinsky, violinist Joseph Szigetti, and Arnold Schoenberg.
In the early 1940s Sol married Mae Laviolette and after the birth of their two daughters, Eve and Miriam, took a job as first violin with the Twentieth Century Fox Orchestra. This allowed him to raise his family while he pursued his interests in early and contemporary music. He stayed with the studio for fifteen years and played in the orchestra for all the movies made by Fox. During this time he began a life-long friendship with composer, Bernard Herrmann. His career with Fox came to an end when the studio broke its union contract and shut the orchestra down for good.
In the late 1940's he met the poet Peter Yates and his wife, Francis Mullen. Yates and Mullen lived in the Silver Lake area and bemoaned the fact that Los Angeles had had no chamber music. Yates and Mullen hired the architect, Rudolf Shindler, to design a studio on the roof of their home and with Sol and Ingolf Dahl as co-coordinators, launched the Evenings on the Roof concert series. A magnet for great talent, Evenings on the Roof introduced Los Angeles to the works of Bela Bartok, Charles Ives, Schoenberg and Stravinsky.
During this time, Sol wrote fingering for Schoenberg and began collaborating with Stravinsky. He wrote a violin version of Circus Polka, worked on fingering for Stravinsky's violin parts, and performed the violin part in the Columbia Broadcasting System's L'histoire du Soldat. The Stravinsky's became close family friends and Igor and his wife Vera became Godparents to both Babitz children. In 1947, Sol became the concertmaster of the newly formed Ojai Orchestra, part of the Ojai Music Festival. This began a lifelong association with John and Helen Bower. In 1948 he co-founded the Early Music Laboratory with harpsichordist, Wesley Kuhnle.
Sol was the first person to say the Wagnerian style of playing Bach and Mozart was not accurate. His research led him to conclude that these early masters allowed for a much looser style of playing. His conclusion was that Bach should not be played like a sewing machine, that the bow should bounce on the strings a bit, not be dragged across them. He began to teach himself to play in a style that no longer existed and began his serious research into Early Music. He collected early instruments including a Steiner violin, a collection of dance master's miniature violins, and other 18th century musical instruments.
In 1961, Sol decided to pursue his love of early music, full-time. Thanks to Igor Stravinsky's strong recommendation, he received Fulbright Foundation grant to study Bach in Europe. In 1963, he received a second Fulbright and a Ford grant to continue his research along with the Stravinsky Award from ASCAP for his work with modern music. In Europe, his ideas about Early Music were widely accepted and orchestras began performing Bach based on his ideas. His travels in Europe allowed him to lecture in Germany, Holland, Italy, and France and he wrote a booklet on his style of playing called, The Great Baroque Hoax, which was accompanied by an album.
Back in America, Sol actively debated at the Musicological Society in Los Angeles and caused a stir with his insistence that most people who played early music had been taught to play incorrectly. It was not a popular position to take and his work was often dismissed. Sol and his wife, artist Mae Babitz, opened their home in Hollywood to the Early Music Laboratory concerts, a monthly series that lasted for nearly twenty years. It was not until after his death in 1982 that the now popular early music movement took off. A direct outgrowth of Sol's research, he is rarely given credit for the movement.
Sol died on February 18, 1982 at the age of seventy.  To learn more about his life and work, please visit: en.wikipedia.org/wiki/Sol_Babitz" To vist: Sol Babitz archive collection